Legal and regulatory framework
Migration registration and visa support
Information on interaction with partners
SAMARA POLYTECH carries out constant purposeful work to improve the form and content of the educational process depending on the requirements of employers. Thus, main departments of SAMARA POLYTECH are based on industrial enterprises and companies. The activity of these departments is aimed at advancing professional adaptation of students under industrial conditions. Enterprises and companies take part in the educational process in the form of practical training and diploma projects on real problems of production and employ the university graduates. SAMARA POLYTECH has developed close cooperation with companies that have production sites and facilities in Samara Region such as "Gazprom Transgaz Samara", JSC "Novokuibyshevsk petrochemical company", JSC "AVTOVAZ", LLC "SIBUR Togliatti", LLC "SamaraNIPIneft", JSC "Samaraneftegaz", JSC "Giprovostokneft", JSC "Kuibyshev Refinery", JSC "Arkonik SMZ", JSC "RKTs-Progress", JSC "Aviacor", JSC "Transneft Volga Region", CJSC Elektroshchit - TM Samara, GK, , PJSC "Kuznetsov", LLC "Robert Bosch Samara", PJSC "T Plus", Branch of JSC "Soso UES" of the Middle Volga, LLC "Instrument Bearings Plant", LLC "Open Source", as well as with other companies operating outside Samara region: ZAO "SP "МЕKAMINEFT", LLC LUKOIL-Western Siberia, LLC RN-Yuganskneftegaz. All abovementioned enterprises and companies employ SAMARA POLYTECH graduates. From 2016 the university is the partner of PJSC "NC Rosneft" so it can claim for corporate grants for students and teachers and funding for the renovation of the university material-technical base.
In order to strengthen contacts of students and graduates with prospective employers the university holds career forums and job fairs. During these events, graduates and undergraduate students are helped to find vacant positions in the chosen specialties. Students meet prospective employers; get experience in having a job interview and search for databases of practices and internships.
Besides, regular excursions to enterprises, presentations of companies and trainings, development of competencies demanded in the labor market are effective forms of assistance to the employment of graduates. In 2018, 80 professional-focused projects took place.
SAMARA POLYTECH students who study basic professional educational programs do practical training in the university training workshops, centers and laboratories, training and production facilities and landfills as well as at the leading enterprises of Samara, Samara Region and other regions of the Russian Federation.
Practical training is organized on contract basis between the university and partner companies. In 2018 SAMARA POLYTECH signed 1849 contracts with the enterprises engaged in the professional field of its graduates.
SAMARA POLYTECH provides visa support and migration registration of foreign citizens arriving in the Russian Federation only for the purpose of STUDY and COURSES. In case of incorrectly issued migration card, it is necessary to make corrections immediately at the border crossing point and verify them in the Border Control otherwise your migration card is considered invalid.
Violation of migration registration (rules of entry, stay or departure from the Russian Federation) by foreign students shall forfeit a penalty of 5000-7000 rubles and deportation from the Russian Federation in accordance with Art. 18.8 of the Code of Administrative Violations.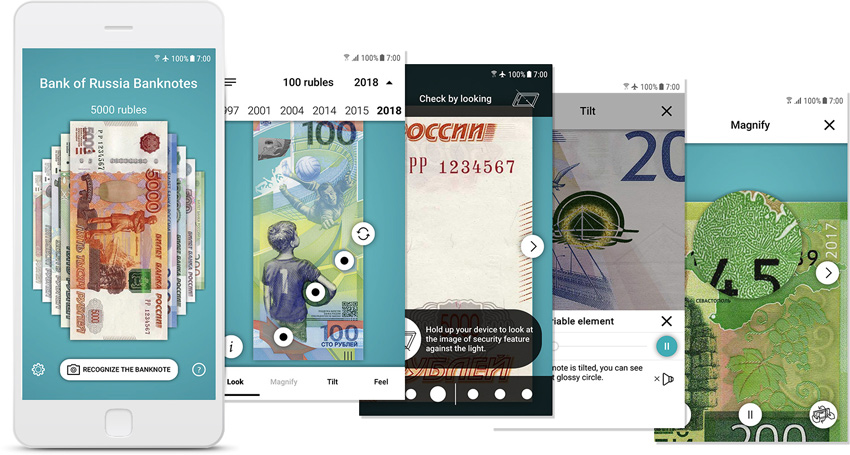 Mobile app «Bank of Russia Banknotes»
The mobile app contains information about all of the Bank of Russia notes issued since 1997 and their security features.
Financial fraud
The information is provided by Samara Regional Division of the Volga-Vyatka Main Branch of the Central Bank of the Russian Federation from the website
https://fincult.info